Diving program MADE for absolute beginners.
---
Try SCUBA diving TODAY.

For all of you who wish to dive right away and explore underwater world of Montenegro  Discover Scuba Diving  program is the right choice.  It is quick, it is FUN and it is made for clients with no previous diving experience. To participate you need to be at least 10 years old. 

About this activity
⏱   

Duration 5 hours.

🛳  Limited number of  Divers up to 6 participants.

🇬🇧 

English speaking guide.
---
Experience highlights
---
Program description and schedule
Meeting place is Pro Diving Montenegro centre at 9 a.m.   Paperwork, gear up and knowledge development up
 to 10 a.m. 
After you'll  get sized up with well maintained SCUBA gear you are going to learn and practice basic diving skills. Your next step is confined water (swimming pool ) session  under supervision of  Pro Diving Montenegro  PADI Instructor. 
Get ready to :
Learn underwater communication and pressure equalization techniques.

Find out what it's   like  to breathe underwater and how easy is to move with your SCUBA gear.

Learn the purpose and correct usage of SCUBA equipment.

Have fun swimming and underwater exploring.
Once your skills practice is completed  it is time for a boat trip. Approximately around 11:30 a.m. we are going to take you for two boat dives to two different dive spots. Both of them are beginners  friendly and very interesting dive sites . Since your Instructor will be diving with you, for both assistance and safety reasons,  all you need to do is enjoy your underwater adventure.
The PYRAMID is the first site you are going to explore with your Instructor  . This dive site is located on the outer side of St Nikola Island and it is only 10 minutes boat driving far from our diving centre. It is a beginner friendly spot with very rich marine  life and  interesting underwater topography. 
Between two dives you'll get enough time for rest, dive debriefing and to plan your next adventure. At 1 p.m. you will be ready for your second dive.
Dive site Reef Tunnels is your next target. Exactly Tunnels is a small peninsula located at the western part of St Nikola Island. Two horizontal tunnels plus small cave are the highlights of Tunnels dive site. Visiting and passing through those underwater tunnels is completely safe and beginners friendly activity.
At 2 p.m. you are going to be back at the Pro Diving Montenegro centre. 
---
Includes
SCUBA instructions

Swimming pool practice 

Use of SCUBA equipment

Boat transportation

Two boat dives
---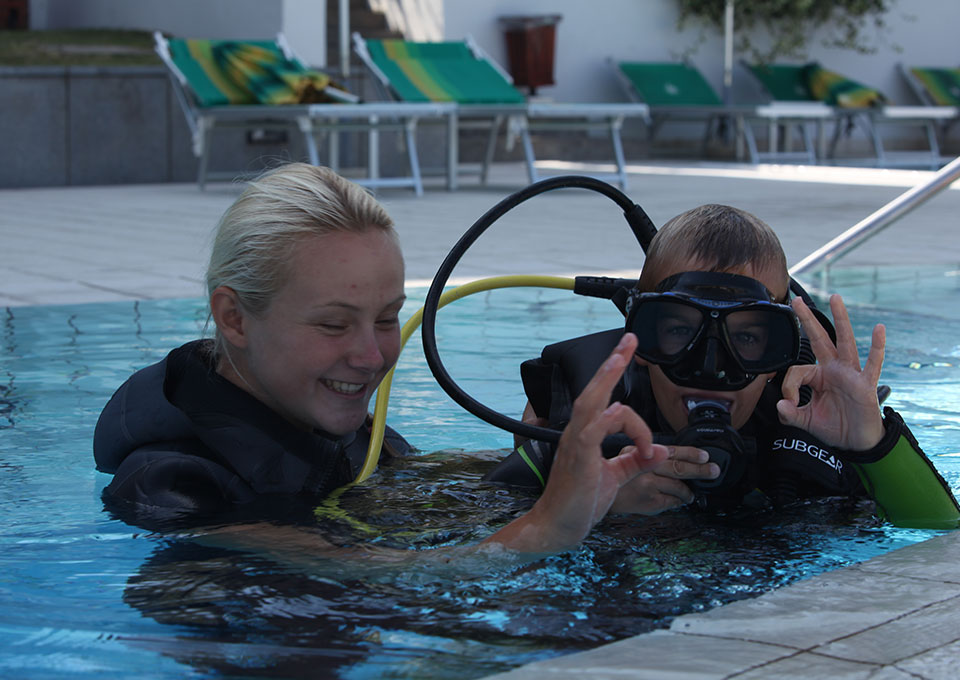 Why you should take this program ???
First of all you are going to to learn how to dive and actually you are going to do it in very short time. With support of your Instructor  you will explore two beautiful dive sites visiting  tunnels, caves and underwater pyramid. Besides diving you'll do a boat trip to the St Nikola Island which is something "MUST TO"due to the beauty of beaches you'll see on the outer side of the Island.
We are 5 ⭐️ IDC   PADI  centre which is the highest ranking any SCUBA operator  can reach . It means that this trip is going to be provided with support of experience  PADI professionals taking care about each participant personally. 
You will get a comfort because we do not provide a mass tourism services. The rib ( rigid - hulled inflatable boat)  Predator  7.5m length with 250 hp outboard Suzuki is the boat we use for this trip. While listed a capacity of our rib is 12 persons  Pro Diving Montenegro limits the number of divers up to 6 participants  just to assure comfort and space for all aboard.
---
Discover SCUBA diving program plus two open water dives cost is 90 eur per person.
SCUBA with Pro Diving Montenegro is Safe and Fun !!!